Objective:
Some authors have advocated the role of ultrasound examination in diagnosing scaphoid fractures with a high specificity and sensibility. The displacement of the fracture and mainly the humpback deformity was not assessed so far with the help of ultrasound. Our study aims to define a sonographic measurement of the intra-scaphoid angle, which could be used to detect the fragment malposition after a scaphoid fracture.
Methods:
We will recruit 30 adult, healthy volunteers without any wrist pathology. In this population, we will measure the distance between the summit of the two scaphoid poles (Interpole distance = IPD) and the palmar cortical intra-scaphoid angle (PCISA) between these two poles after having defined three points (summit of the two poles, and the deepest point on the palmar cortex). For this purpose, the wrist is temporarily fixed in a splint at 50° of extension and a palmar wrist-US is performed (10 MHz). Three independent and blinded examinators take the measures. All these images (for each wrist three) are than evaluated in the PACS by the three evaluators separately. The results are than compared to find out the reproducibility and reliability of our proposed measure technique.
Results:
The preliminary results were collected in 6 wrists. The mean PCISA was 133° (SD 3°) and the mean IPD was 16 mm (SD 0.9 mm). The mean difference between the three examinators was 0.5mm (range 0-1.6 mm) for the IPD and 2° (range 0-5°) for the PCISA. The mean differences between the different evaluators on the other hand were 0.5mm (range 0-1.2 mm) for the IPD and 3° (range 0-8°) for the PCISA. Because of the small sample a statistical evaluation wasn't performed so far. But in the final cohort the intra- and interobserver reliability will be tested with the interclass correlation coefficient (ICC).
Conclusion:
In conclusion our preliminary data looks promisingly and the evaluation of the PCISA and the IPD seems to be an easy performable, reproducible and reliable measurement. It would be a pleasure to present you our final results in November in Thun.
Irreparable proximal pole fracture of the scaphoid is a challenging problem. It can occur de novo after proximal scaphoid fracture with subsequent avascular collapse or after previous failed attempts of fixation with or without revascularization.
We present our series of 21 cases in which proximal scaphoid nonunions with fragmentation were treated with costo-osteochondral graft reconstruction (rib graft). The median follow-up was 29 months. Union was achieved in all 21 patients. There were significant improvements in subjective and objective outcome measurements and carpal alignment was well maintained in all patients, as shown by normal postoperative capitolunate angle measurements. No donor site complications were encountered.
Rib graft reconstruction can offer a reliable and straightforward option for the difficult problem of the irreparable proximal pole of the scaphoid.
Introduction/objective: Quality of care has become over time a central concern for health actors, patients, and politics. A standardized and reliable method of classification of complications is therefore needed to measure them. In general surgery since 1992 the Clavien-Dindo classification is used, this classification system is world-wide recognize by general surgeons for his objectivity, relevance, and reliability. By using the treatment of the complication rather than the complication itself, this classification made it possible to erase subjectivity of surgeons involved in the treatment and differences between centers, in particular by avoiding down-rating major negative outcomes. We aimed to develop an analog classification system for negative outcome events in hand surgery.
Materiel and method: Based on the modified Clavien-Dindo classification already adapted for othopaedic surgery we developed a classification system for hand surgery. Two trained hand surgeons discussed each original item and transposed it to hand surgery. In a second stage the hand adapted classification system was presented to trained and in trainee hand surgeons. Finally, to evaluate the hand adapted classification system we randomly selected negative outcome events that occurred in our clinic, trained (>6 years of surgical experience) and in trainee hand surgeons were asked to classify them according to the new hand adapted Clavien-Dindo classification system.
Results: The hand adapted classification system retained 5 grades. After consensus was reached for the hand adapted classification system 15 negative outcome events were submitted to 10 hand surgeons (5 trained and 5 in trainee). As the original Clavien-Dindo staging and the orthopedic modification, our transposition showed great interobserver reliability.
Discussion and conclusion: Application of a classification system for negative outcome events to hand surgery will be a tool to evaluate et compare them. The next step is now the prospective implementation of the hand-adapted Clavien-Dindo classification system and his evaluation.
Background
Parsonage-Turner syndrome is a rare disorder which includes a wide constellation of symptoms including shoulder pain, progressive motoric or sensory neurologic deficits. Apart from hereditary form of plexus neuritis there is also an idiopathic form which can be triggered by various factors such as trauma, surgery, infection or vaccination. The identification of the syndrome remains difficult and prolonged in most cases. Diagnosis of this syndrome in the postoperative setting is often difficult ad the symptoms are often attributed to sequelae of surgical positioning, postoperative recovery, or postanesthetic block pain. Purpose of this case report is to show the complexity of this condition and the importance of the early diagnosis and initiation of the treatment.
Case presentation
A 36 years old male has suffered a comminuted intraarticular fracture of the basis of fifth metacarpal of the right hand in September 2021 and was operated five days after the trauma. The fourth and the fifth metacarpals were transfixated with two K-wires. After initial period of pain in the shoulder region patient noticed reduced power of both shoulders and arms and mentioned it in the postoperative check-up 8 weeks after the surgery. In the electroneurographic exam a severe bilateral solely motoric amyotrophy of the upper brachial plexus was diagnosed. No serologic or other laborchemical findings could endorse the primary genesis of the plexus neuritis and the lesion was interpreted as of combined posttraumatic and postoperative genesis. A conservative treatment was initiated and after four months of intensive physiotherapy program a partial recovery was achieved.
Conclusions
This clinical case represents a rather atypical form of amyotrophic neuritis with bilateral solely motoric involvement of a brachial plexus in a patient who presented after an acute phase of pain with already progressed muscle atrophy. It emphasizes the importance of early diagnosis including a clinical evaluation, electrodiagnostics, and imaging to allow a proper therapy.
Background: Cast immobilization of the wrist for up to six weeks has been the treatment of choice in the nonoperative treatment of distal radius fractures. The commonly used fibreglass material can cause discomfort due to the circular design and lacking breathability and has an elevated risk of skin irritations and pressure sores.1 Recently, splints and orthoses based on three dimensional (3D)-printing-technology showed an increasing relevance in the nonoperative treatment of different pathologies in the upper or lower extremity.2,3 The aim of this randomized controlled trial was to demonstrate non-inferiority of 3D-printed splints compared to conventional fibreglass casts in the non-operative treatment of distal radius fractures concerning patient satisfaction and clinical effectiveness.
Method: We compared patient satisfaction and clinical effectiveness using 3D-printed splints compared to conventional fibreglass casts in the treatment of distal radius fractures. 39 patients over the age of 18 with minimally displaced distal radius fractures were included. 20 were immobilized in a fibreglass cast, 19 in a 3D-printed forearm splint. The 3D-printed splints were designed patient-specifically using scanning and modelling software provided by Spentys and printed in-house using photosensitive resin and digital light processing printing technology. Patient satisfaction and clinical effectiveness were assessed with questionnaires 1 and 6 weeks posttraumatically. Fracture healing, pain, range of motion, grip strength and the Disabilities of the Arm, Shoulder and Hand (DASH)- and Patient-Rated Wrist Evaluation (PRWE)-Score were assessed up to 1 year posttraumatically.
Results and conclusion: 3D-printed splints proved to be at least equally well tolerated by the patients and at least equally clinically effective as conventional fibreglass casts and are a safe alternative in the conservative treatment of distal radius fractures.
References:
1 Davis et al. Soft tissue complications of distal radius fractures. Hand Clin. 2010 May;26(2):229-35. doi: 10.1016/j.hcl.2009.11.002. PMID: 20494749.
2 Diment et al. Clinical efficacy and effectiveness of 3D printing: a systematic review. BMJ Open. 2017 Dec 21;7(12):e016891. doi: 10.1136/bmjopen-2017-016891. PMID: 29273650
3 Chen et al. The efficacy of using 3D printing models in the treatment of fractures: a randomised clinical trial. BMC Musculoskelet Disord. 2019 Feb 8;20(1):65. doi: 10.1186/s12891-019-2448-9. PMID: 30736770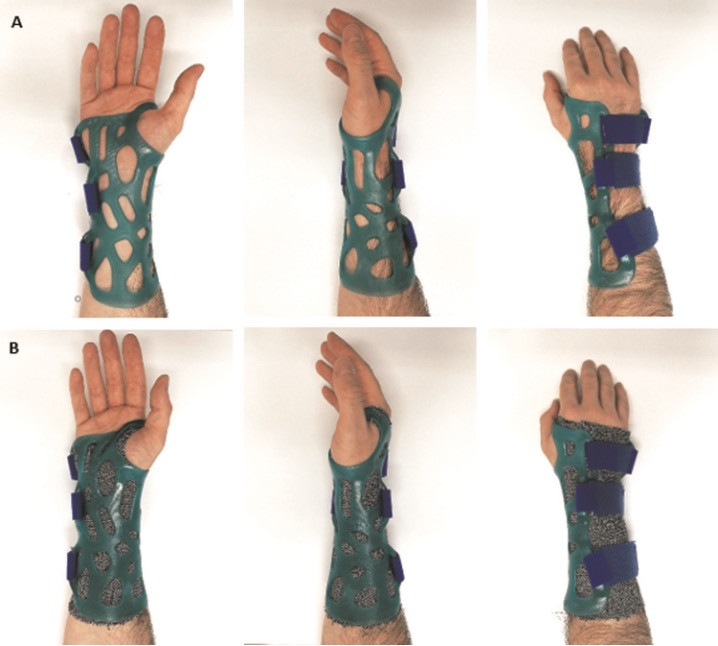 The carpal tunnel syndrome is the most prevalent peripheral compression neuropathy. The objective of this case study is to highlight a rarely reported entity of the carpal tunnel syndrome - a tenosynovial giant cell tumor, a benign soft tissue tumor of the hand.
A 47-year-old woman consulted her doctor because of a mobile swelling in her left wrist proximal to the carpal tunnel. She also complained of numbness and paresthesia in her left adominant hand by night for 6 months. A clinical diagnosis of carpal tunnel syndrome was made, caused most likely by the localized swelling in the distal forearm. The electrodiagnostic study and the performed ultrasonography showed a reduced nerve conduction and an increased cross-sectional area in the left median nerve. Moreover, ultrasound and MRI examination revealed a space occupying mass in contact with the median nerve and displacing the flexor tendons. After consultation with the orthopedic oncologist to determine whether a needle biopsy or excision in toto can be performed, complete surgical resection of an encapsuled tumor was possible without a carpal tunnel release. The pathologic examination of the specimen revealed a tenosynovial giant cell tumor. The patient showed six weeks postoperatively a good clinical result with a complete improvement in pain and sensation.
We present this case study in order to enlarge the literature regarding tenosynovial giant cell tumor causing carpal tunnel syndrome to help with the correct diagnostics and treatment. Even though this pathology remains a rare cause for a carpal tunnel syndrome, published only a few times in literature, clinicians must remain alerted, especially when a swelling of the wrist region appears, or the primary decompression fails. Magnetic resonance imaging that is not commonly used in entrapment neuropathy plays an important role in such patients to avoid a delay in diagnosis. State of the art remains a surgical removal and is depending on the localization of the tumor and/or the severity of the neurological damage and can be performed with or without a release of the carpal tunnel.
Wrist osteoarthritis (OA) may present in different patterns such as Scapho-Lunate Advanced Collapse, Scaphoid Nonunion Advanced Collapse, Scaphoid Chondrocalcinosis Advanced Collapse, Kienböck Disease Advanced Collapse and STT Osteoarthritis Advanced Collapse. We observed an atypical pattern of wrist OA being present in the lunocapitate (LC) and STT joint, disregarding the previously described patterns in the literature.
We examined three wrists in two female patients who presented with wrist pain: the first one was a right-handed 51-year-old commercial clerk that did horse riding and swimming in her free time, who fell on her left flexed wrist one year prior to consultation. Clinically, tenderness over the scapholunate (SL) interval and the snuffbox was observed. Plain radiographs as well as CT- and MR-scans showed an advanced LC-OA with no joint space left, as well as a widened SL-interval and STT-OA. There was no involvement of the radiocarpal space.
The second patient was a 53-year-old right-handed housewife, who also did horse riding in her free time. There was no history of trauma in this case and she presented with bilateral wrist pain. The clinical examination revealed tenderness over the lunate and the STT joint on both wrists. Further diagnostics with plain radiographs, CT- and MR-scans revealed a LC-OA with advanced STT-OA in both wrists. There was no involvement of the radiocarpal joint in this case either.
The first patient underwent wrist denervation according to Berger's technique with regression of symptoms two weeks postoperatively. The second patient had a four-corner-fusion on her right, dominant, wrist and hand therapy on her left wrist. She observed a complete regression of symptoms in both wrists 6 weeks and 8 weeks after the treatment, respectively.
LC osteoarthritis without radiocarpal OA does not follow the classic pattern of the previously described wrist OA. In both cases, the STT joint was involved, as supported by the literature. The patient with prior trauma had a very advanced stage of LC-OA, which rather puts the trauma as an independent variable in the pathophysiology of this OA. Both of our patients did horse riding, but because of the small number of cases, it cannot be interpreted as a cause-effect relationship. Three different treatment approaches were used and all of them lead to a regression of symptoms. Further knowledge is necessary to understand the significance of this pattern and its best treatment.
INTRODUCTION
Measuring the exact range of forearm rotation is challenging and often imprecise. Therefore, the primary objective of this study is to validate a new smartphone-based technology for forearm rotation measurement on a 3D bone model.
METHODS
An analog protractor was integrated into a 3D bone model of a forearm after the axis of rotation was calculated. The model was 3D printed, and a smartphone holding device was attached to allow for a comparison of analog and digital rotation measurements of this model (Figure 1-3).
In a first grouping of measurements, a series of 100 pairs of random integers of pronation/supination were measured. During this series, the forearm axis was constant at 45°. In a second series, the forearm position was changed to a pre-determined position after ten pairs of rotation measurements.
In a second grouping, pronation/supination was measured while a dynamic motion of the whole forearm model was added (elbow flexion/extension and upper arm rotation) to assess how these interference factors influence the overall measurement results.
RESULTS
Our measurements indicate a near complete match between observed and expected values (99.25%) and an overall variance of 0.01 while the rotational axis was in a static position. Dynamic motion of the forearm (flexion/extension) altered the result for pronation and supination each up to +/-1.3%, however, this did not affect the overall range of rotation.
DISCUSSION & CONCLUSION
Measurement of forearm rotation obtained by a novel smart phone app demonstrated a high degree of accuracy, precision, and reproducibility. Unlike prior attempts to develop a smartphone-based goniometer, the accuracy of measurements provided by this novel app is not influenced by the spatial arrangement of the rotational angle.
Importantly, while measuring the forearm rotation, concomitant elbow flexion/extension of the forearm bone model of 10° results in a measurement deviation of ≤1.3° which is clinically negligible.
Further studies are currently underway to demonstrate the accuracy and precision of this novel app for measuring forearm rotation in human subjects and its practical utility for varied clinical use.